A singular entry but a nice day out none the less. Best of Breed at the Longshore-Southport Kennel Club show to Ch. Kamgaard Kleared For Takeoff under judge Theresa Hundt, who has a handler showed many Elkhounds and had nice praise for "Polo." Young Kamgaard Kounterpoint ("Fiona") came along for the ride and loved watching her auntie in the breed and group rings and met lots of new friends.
Exciting news from Canada that Kamgaard Klearly Kunstverk won his first Canadian major today and Best of Breed at the Erie Shores Kennel Club show under judge David Wong of Australia ("Crookrise"). "Kubo" is handled by Tessa Vildaer for happy owners Teresa and Don Cloutier.
CONGRATULATIONS!!!
Every dog has to start somewhere!
Making her first show outing today was four month old Kamgaard Kounterpoint ("Fiona") at the Newton Kennel Club's all-breed match where she was awarded Best Puppy in Match under judge Linda Baker ("Elba").
She had a blast!
Another nice win today at the Southern Counties Canine Association Championship show in England for the Kobi son, Ellahyde Fine N'Dandi -- see photo at News blog of May 23rd. "Toki" was Reserve Best Dog under Finnish judge, Reino Korpela. Keep up the good work, Danni!
Happy news from across the pond! We were pleased to learn today of the new UK Championship of Grasilva Little Rock avec Gilkaro ("Flint"). He is of course the son of our Ch. Horizon Rock Solid and Ch. Kamgaard Kiamesha who flew to the UK via Belgium in whelp. Winning his third Challenge Certificate today came at the Bath Canine Society Championship show under breeder-judge Stuart Horner ("Kinderhorn").
CONGRATULATIONS to owners Helen and Alan Tress!!!
A very overdue update! While we ourselves have little show news to report, it surely doesn't mean we haven't been busy!
After dealing with more snow than we would like to think about...which lasted well into April... we were finally able to get puppies from our January litter by SBIS Ch. Sangrud Thorbjorn Bodin to SBIS GCh. Kamgaard Kintyre off to their new homes and all are settled in and giving their new owners much joy.
On the performance front, Ch. Kamgaard Kryptic Kharacter OA AXJ OF ("Rune") continues on with her agility trials (and sometimes tribulations!) while continuing to entertain the crowds with her antics, but she has recently gotten another Excellent Standard leg at the Wilmington Kennel Club trial under Dawn Glaser-Falk:
In Canada, young Kamgaard Klearly Kunstverk ("Kubo"), pictured above has been exploring the world of Barn Hunt at a workshop in Ontario and doing well on his first try. In addition, he put in a good performance at the Arnprior Canine Association shows. Unfortunately, he was the only Elkhound there but drew some noteworthy praise from one handler who certainly knows the breed! Proud owners and Teresa and Don Cloutier.
Mid-April found Maggie flying off across the pond again to attend the Sapphire Anniversary show of the Norwegian Elkhound Club of Great Britain. The first port of call was the Kestos Kennel and from there, Babs and Maggie spent a wonderful day at the show joined by good friends Gill Bingham and Ann Roslin-Williams. Lots of special events planned, Norwegian judge, a program and a champagne and cake social time afterward. All in all, just a great time and pleased with SBIS American Grand/Canadian/UK Ch. Kamgaard Kut Above ("Kobi") winning a quality Veteran Dog class and (better yet!) Kobi's son Ellahyde Fine N' Dandi ("Toki"), pictured below, winning not only his class but the Reserve Challenge Certificate.
CONGRATULATIONS to Stuart Horner ("Kobi") and Dannie Medhurst ("Toki")!
Back to Kestos for a few days, then on into Wales and finally to Reading, visiting friends and family and home once again.
A nice Owner-Handler Hound Group 3rd on May 4th for Claudia Holst and Ch. Kamgaard Kut To The Point ("Gibbs") at the Badger Kennel Club show under judge Colonel Joe Purkhiser pictured above.
No NEAA National for us this year, but pleased to hear that the Select Dog award in this huge entry went to the sire of our puppies, SBIS Ch. Sangrud Thorbjorn Bodin ("Bode") in his first outing as a Champion. His pedigree sports quite a few Kamgaard ancestors and he was also the sire of the Best in Futurity winner there. CONGRATULATIONS to Kristi Wehking, Karen Elvin, and Brad and Cindy Wagner!!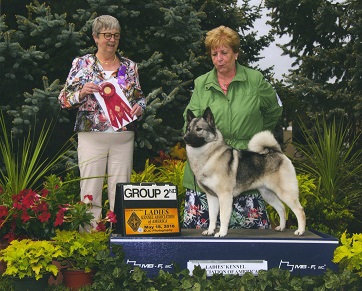 ... and finally... off to the Ladies Kennel Association of America show on Long Island on May 18th with Ch. Kamgaard Kleared For Takeoff ("Polo") who was Best of Breed under Denise Flaim and on to a lovely 2nd in the Hound Group under Irish judge Ann Ingram ("Tirkane")! Photo above.
No luck of the Irish today... just a LOT of hard work and determination!
Hats off and HUGE CONGRATULATIONS go out to Christine Tilburg and Kamgaard Katch The Wave RAE who today added the PACH agility title to the beginning of his name at a trial in Massachusetts under judge Ken Fairchild.
While the snow and ice continues to fall here, we have had some great news from warmer climes:
Firstly an email from Marlene Schlichtig tells us that Ch. Kamgaard Kodak Moment ("Jack") is now up to 24 titles with the addition of his American Kennel Club Canine Good Citizen and Canine Good Citizen Advanced titles.
On Saturday, an email from "down under" announced that American/Australian Ch. Kamgaard Kutting Edge ("Seth") was the Best of Breed selection of master breeder Bill Shelton ("Coventry") at the Canberra Royal Show in good competition.
Sunday was the annual meeting and Contest of Champions of the Norwegian Elkhound Club of Great Britain. SBIS American Grand/Canadian/UK Ch. Kamgaard Kut Above ("Kobi") was proclaimed Veteran of the Year and awarded the Lupton Susan Veteran Cup and the Thingvollr Variety Cup for his ring accomplishments last year. At the Contest, the mystery judge was Mike Caple ("Morsefield") who awarded Kobi Best Veteran Dog.
CONGRATULATIONS to Kobi and his two sons!!
HAPPY VALENTINE'S DAY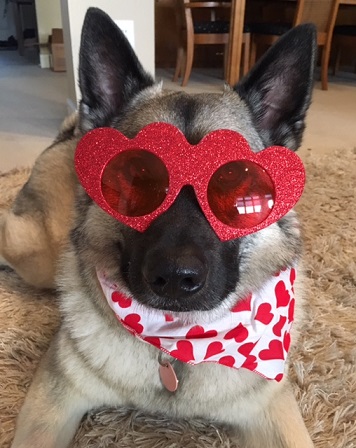 from that Canadian Cupid, Kamgaard Northern Silver Spirit ("Koda")
There's nothing like a "three-peat" and a new

BIG CONGRATULATIONS to
Kamgaard Kall Me Inkredible, RA ("Violet")
and owners Toni Sibrel and Peter Bojan on the following wins in Illinois:
1/25 - WB/BOS - Park Shore Kennel Club - Judge, Doug Johnson ("Clussexx")
1/26 - WB/BOS - Chain O'Lakes Kennel Club - Judge, Sulie Greendale-Paveza
1/27 - WB/BOS - Park Shore Kennel Club - Judge, Debbie Campbell-Freeman
While ice and snow prevented some from getting to the Manchester Dog Show Society's Championshiip show at the Stafford showgrounds in the United Kingdom today, not so for Grasilva Little Rock Avec Gilkaro JW who won both the Dog Challenge Certificate and Best of Breed under Mr. Mark Cocozza ("Freecloud"). Son of our Ch. Horizon Rock Solid and Ch. Kamgaard Kiamesha, this was "Flint's" second CC. Unfortunately due to weather conditions, his dam and litter sister along with our Kobi didn't make it to the show. :-(
CONGRATULATIONS to TEAM FLINT!!!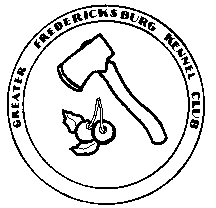 Two new Best of Breed awards for Ch. Kamgaard Kodak Moment BN RN TKN at the Friday and Saturday shows of the Greater Fredericksburg Kennel Club in Virginia. "Jack's" wins came from Mr. Charles Olvis on Friday and Mrs. Pat Trotter ("Vin-Melca") on Saturday which was a supported entry of the Norwegian Elkhound Club of the Potomac Valley.
Meanwhile in the frozen north of Maine, Jack's older brother Kamgaard Katch The Wave RAE MXP MJP RN ("Rogue") had a wonderful agility week-end winning two more sets of QQ's toward his PACH degree as well as two 1st places, one 2nd place and one 3rd place. He is looking pretty pleased with himself!
CONGRATULATIONS, BROTHERS!! as well as Marlene and Christine.
Starting the New Year out on the right paw!!!
Not the way we would like to start the New Year out, but today we are mourning the death of our dear friend Brian Stokes, husband of Barbara ("Babs") Stokes of the famous Kestos kennel in Wales. One of the loveliest people we have ever known, he always had a hug for you, a twinkle in his eye and a good story to tell. Somehow visits to Kestos will never be the same.
Rest in Peace Brian, and know how very much you were loved.
HAPPY NEW YEAR TO ELKHOUNDERS NEAR AND FAR!
Here's hoping 2018 will bring peace, health and prosperity to you and your dogs!